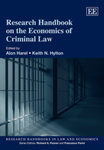 Title
Research Handbook on the Economics of Criminal Law
Description
Jeremy Bentham and Gary Becker established the tradition of analyzing criminal law in utilitarian and economic terms. This seminal book continues that tradition with specially commissioned, original papers that span the philosophical foundations of the use of economics in criminal law, both traditional economic perspectives and behavioral and experimental approaches to the discipline.

The contributors examine and evaluate the optimal design of criminal law norms as well as the ideal structure of law enforcement institutions. They delineate what wrongs ought to be criminalized, identify the boundaries between criminal law and tort, and determine the optimal size of sanctions given the differential vulnerability of victims. They also analyze the special considerations that apply to the regulation of corporate crime, the effects of technology on crime, and the effects of the distribution of wealth on sentencing.

This essential Handbook provides students and scholars of criminal law and law and economics the opportunity to explore the diversity of contemporary approaches to the economics of crime. Criminologists, sociologists and policymakers will also find it a valuable addition to their collections.
Publisher
Edward Elgar Publishing
Recommended Citation
Hylton, Keith N. and Harel, Alon, "Research Handbook on the Economics of Criminal Law" (2012). Books. 91.
https://scholarship.law.bu.edu/books/91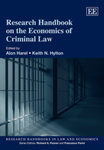 COinS