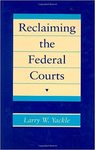 Title
Reclaiming the Federal Courts
Description
Go ahead and try to make a federal case of it. That may seem to be your right, but as Larry Yackle reveals in Reclaiming the Federal Courts, the guardians of that right don't see it that way. A systematic study of the role the federal courts play in enforcing the Constitution, this powerful book shows how the current conservative Supreme Court has undermined that role by restricting citizens' access to these courts.
Yackle focuses on judicially created doctrines that channel certain cases away from the federal courts (which tend to hold government power in check) and into state courts (which tend to allow government a relatively free hand). In doing so, he clearly shows how seemingly arcane and confusing legal technicalities actually tilt the delicate balance between government power and individual liberty in the United States. As he traces the historical underpinnings of the federal judicial system, Yackle explains how access to the federal courts in federal-question cases is intertwined with the most fundamental elements of American Jurisprudence—Legal Formalism, Legal Realism, Legal Process, and the Civil Rights Movement—as well as with the recent conservative retrenchment. He goes on to examine specific modern doctrines. Here we see how the Rehnquist Court's restrictive rules deny citizens standing to sue in federal court, disclaim the federal courts' jurisdiction even when standing is conceded, channel cases away from the federal courts even when they have jurisdiction, and frustrate the right to petition the federal courts for a writ of habeas corpus—perhaps the most fundamental right of any citizen.
Yackle's straightforward style makes his description and analysis of existing law intelligible to students and others who wish to understand how the federal judicial system actually functions—or fails to function. The book concludes with concrete recommendations for congressional action to correct the subtle but significant injustice that Yackle so clearly and cogently exposes.
Publication Date
10-20-1994
Publisher
Harvard University Press
Recommended Citation
Yackle, Larry, "Reclaiming the Federal Courts" (1994). Books. 61.
https://scholarship.law.bu.edu/books/61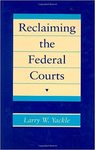 COinS