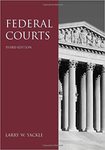 Title
Federal Courts, 3rd ed.
Description
This third edition of Federal Courts is addressed to law students, judges and magistrates, law clerks, and attorneys who need a single-volume reference book close at hand. It provides both a primer on the power and functions of the Judicial Branch of the Federal Government and an explication of developments through 2008. Recent Supreme Court decisions have required pervasive changes from the second edition in 2003. The third edition covers critical decisions on jurisdiction in federal-question cases, standing, sovereign immunity, and habeas corpus. It also treats recent statutes, especially the Antiterrorism and Effective Death Penalty Act, the Detainee Treatment Act, and the Military Commissions Act, together with the Court's enormously important decisions on judicial power to entertain petitions from detainees at Guantanamo Bay and elsewhere.
Like previous editions, the third edition offers a streamlined exposition of complex material in straightforward, accessible prose. Readers who need an introduction to basics will find it in this text; readers who need deeper analysis will find it in the exhaustive footnotes.
Publisher
Carolina Academic Press
Recommended Citation
Yackle, Larry, "Federal Courts, 3rd ed." (2009). Books. 55.
https://scholarship.law.bu.edu/books/55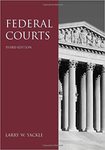 COinS