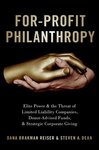 Title
For-Profit Philanthropy: Elite Power and the Threat of Limited Liability Companies, Donor-Advised Funds, and Strategic Corporate Giving
Description
This book exposes a migration of business practices, players, and norms into philanthropy that strains the regulatory regime sustaining public trust in elite generosity through accountability and transparency and proposes legal reforms and private solutions to restore it.

Practices, players, and norms native to the business sector have migrated into philanthropy, shattering longstanding barriers between commerce and charity. Philanthropies organized as limited liability companies, donor-advised funds sponsored by investment company giants, and strategic corporate philanthropy programs aligning charitable giving by multinationals with their business objectives paint a startling new picture of elite giving.

In For-Profit Philanthropy, Dana Brakman Reiser and Steven A. Dean reveal that philanthropy law has long operated as strategic compromise, binding ordinary Americans and elites together in a common purpose. At its center stands the private foundation. The authors show how the foundation neatly combines donor autonomy with a regulatory framework to elevate the public's voice. This framework compels foundations to spend a small but meaningful portion of the assets their elite donors have pledged to the public each year. Prophylactic restrictions separate foundations from their funders' business and political interests. And foundations must disclose more about the sources and uses of their assets than any other business or charity. The philanthropic innovations increasingly espoused by America's most privileged individuals and powerful companies prioritize donor autonomy and privacy, casting aside the foundation and the tools it provides elites to demonstrate their good faith. By threatening to displace impactful charity with hollow virtue signaling, these actions also jeopardize the public's faith in the generosity of those at the top.

Private ordering, targeted regulation, or a new strategic bargain could strike a modern balance, preserving the benefits of the compromise between the modest and the mighty. For-Profit Philanthropy offers a detailed roadmap to show how it can be accomplished.
Publication Date
1-3-2023
Publisher
Oxford University Press
Keywords
philanthropy, business, corporate law, corporate philanthropy, foundations, charities
Disciplines
Business Organizations Law | Law | Legal Ethics and Professional Responsibility | Nonprofit Organizations Law
Recommended Citation
Brakman Reiser, Dana and Dean, Steven, "For-Profit Philanthropy: Elite Power and the Threat of Limited Liability Companies, Donor-Advised Funds, and Strategic Corporate Giving" (2023). Books. 347.
https://scholarship.law.bu.edu/books/347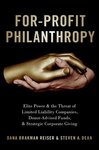 COinS