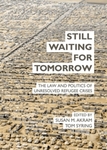 Title
Still Waiting for Tomorrow: The Law and Politics of Unresolved Refugee Crises
Description
This book focuses on the common features of protracted refugee situations. It is a critical examination of the reasons underlying the extended nature of those crises, as well as potential solutions to them.

The book addresses war and armed conflict, environmental change and natural disasters, statelessness and protection gaps, among other elements, as common origins of refugee crises. It analyzes the root causes of some of the longest-standing unresolved refugee situations in the world today (including, but not limited to, the cases of Palestinians, Sahrawis, and Tibetans), addressing the particular political and legal tensions undermining solutions to them.

The book comprises contributions from some of the leading scholars and practitioners in the field of international refugee, human rights and humanitarian law, and international relations.
Publication Date
5-1-2014
Publisher
Cambridge Scholars Publishing
Keywords
political science, refugees, legal status, emigration, immigration
Disciplines
Human Rights Law | Immigration Law | Law | Law and Politics
Recommended Citation
Akram, Susan M. and Syring, Tom, "Still Waiting for Tomorrow: The Law and Politics of Unresolved Refugee Crises" (2014). Books. 23.
https://scholarship.law.bu.edu/books/23