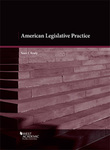 Title
American Legislative Practice
Description
American Legislative Practice examines how legislatures develop and enact statutes through a blend of theory and practical considerations. The author spent several years as a legal counsel and legislative drafter with the Massachusetts Legislature and for the past 15 years has directed the Legislative Policy & Drafting Clinic at Boston University School of Law. Each chapter covers a different aspect of legislative activity: the structure of the legislature, ethical issues, policy development and the legislative process, constitutional issues, legislative drafting, lobbying and advocacy, statutory interpretation by agencies and courts, and legislative oversight.

This book is different in a few important ways. First, unlike other law school legislation textbooks, American Legislative Practice does not focus on how judges view and interpret statutes. Rather, the book treats the legislative process as the center of our nation's political and legal discourse. Readers are actively encouraged to put themselves in the place of legislators and their staff to better understand the process and the difficulties in creating legislation. Second, this book does not exclusively focus on Congress, but also uses materials from various state legislatures. Third, American Legislative Practice employs several original case studies, simulations and exercises to help put legislative decisions in context and spark class discussion.

American Legislative Practice could be used in either a traditional theory-based legislation class or in a policy-related practicum or clinic. It could also be either the primary text or a supplement for a political science course focused on Congress or the legislative process.
Publisher
West Academic Publishing
Keywords
Legislative bodies, United States, United States Law, legislative policy, legislation, legislature
Disciplines
Law | Legal Education | Legislation
Recommended Citation
Kealy, Sean J., "American Legislative Practice" (2021). Books. 186.
https://scholarship.law.bu.edu/books/186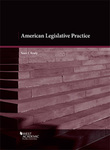 COinS