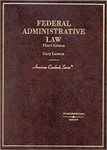 Title
Federal Administrative Law, 3rd ed.
Description
Professor Lawson has adopted three strategies to reduce the Administrative Law course to a manageable set of materials.
First and most importantly, the book deliberately concentrates on federal administrative law, to the near total exclusion of state administrative law.
Second, the book concentrates on administrative law, e.g., the casebook is self-consciously doctrinal, focusing on the formal legal doctrines that establish the framework within which policymakers, lobbyists, and lawyers can ply their trades.
Third, the book strongly emphasizes the four fundamental branches of administrative law: the constitutional foundations of the administrative state, the law (both constitutional and statutory) governing agency rulemaking and adjudicatory procedures, the law governing the timing and availability of judicial review.
The book is student-friendly, designed to tell the story of modern federal administrative law in a straightforward yet sophisticated fashion.
Publication Date
2-1-2004
Recommended Citation
Lawson, Gary S., "Federal Administrative Law, 3rd ed." (2004). Books. 113.
https://scholarship.law.bu.edu/books/113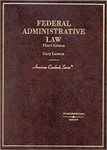 COinS