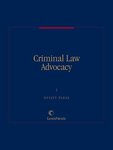 Title
Criminal Law Advocacy, v. 2: Guilty Pleas
Description
Criminal Law Advocacy explores the important techniques behind successful criminal law practice and offers specific guidelines for using the proper procedures. Checklists, sample forms, and real-life examples of testimony are included, with expert author commentary throughout. Topics include:
• Trial Investigation and Preparation--Initial client interview, setting fees, case management, discovery, and motion practice
• Jury Selection--Substantive law, strategies, and techniques
• Guilty Pleas--Plea bargaining, the constitutional standards for accepting pleas, Alford pleas, plea agreement procedure
• Trial Proof--Real evidence, elements of guilt, privileges, objections and the operation of the rules of evidence
• Witness Examination--Strategies and techniques
• Argument to the Jury--Techniques and analysis of pertinent laws
Publisher
Matthew Bender & Co.
Recommended Citation
Rossman, David, "Criminal Law Advocacy, v. 2: Guilty Pleas" (1982). Books. 110.
https://scholarship.law.bu.edu/books/110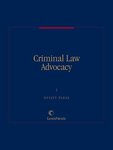 COinS